Dalmatiër die pootjes verloor in Chinees slachthuis vindt gouden mandje.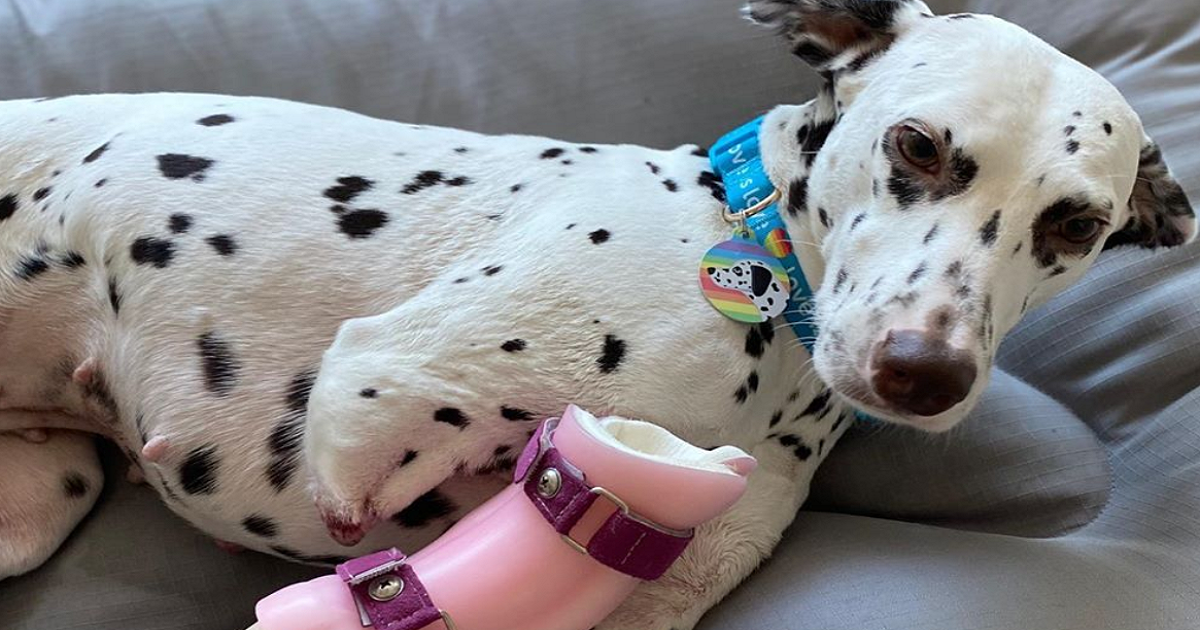 Emma Roo heeft een zware start gehad in het leven. Ze had een kleine teenafwijking bij haar geboorte. Daarom lieten de fokkers haar in de steek en zo belandde ze in een Chinees slachthuis.
In 2017 is Emma gelukkig gered. Maar op dat moment waren haar voorpoten geamputeerd, waren de puntjes van haar oren afgeschoren en miste ze een stuk van haar staart. Emma was toen amper acht weken oud …
Haar redders schakelden de hulp in van Dalmatian Rescue of South Florida. De hond had immers een veel grotere kans om in het buitenland door iemand geadopteerd te worden. In januari 2020 arriveerde Emma in de Verenigde Staten. Dat was precies voor het ogenblik dat dierentransporten zijn stopgezet als gevolg van de coronapandemie.
Toen Misha Rackcliff Hunt een foto zag van de verminkte hond, wist ze meteen dat ze haar moest leren kennen. De vrouw reed vijf uur lang om de hond op te halen.
Misha onthulde: "Toen ik haar leerde kennen, dacht ik dat ze misschien afstandelijk was of vanwege haar trauma niet geïnteresseerd was in mensen, maar ze viel onmiddellijk in mijn armen."
Omdat mensen haar vertrouwen zo zwaar geschonden hadden, moest Emma leren dat er ook lieve mensen zijn. Emma Roo had een heilige schrik voor mannen. Ze schakelden de hulp in van een mannelijke massagetherapeut om die angsten te bezweren.
Verder was Emma ook doodsbang van bepaalde geluiden, zoals van stofzuigers en grasmaaiers.
Misha legde uit: "Toen ik haar voor het eerst naar huis bracht, krijste ze het uit als ik de kamer uitging. Ze was altijd heel beschermend over haar voedsel en speelgoed. Op een bepaald moment bewaakte ze zelfs willekeurige kledingstukken van mij, omdat ze vreesde dat iemand het zou afpakken."
Maar Emma heeft met Misha een geweldige mama gevonden! Nu is ze weer helemaal open gebloeid en ze is de liefste hond ooit!
Misha heeft er geen seconde spijt van dat ze Emma adopteerde. Ze zou het zo opnieuw doen. De vrouw zegt dat de hond met haar beperking helemaal geen last is, maar eerder een zegen.
Misha voegde er nog aan toe: "Ik heb zo veel mensen horen zeggen dat ik haar beter had laten inslapen vanwege haar lijden, maar als ik naar deze gelukkige en glimlachende hond kijk, kan ik me niet inbeelden dat ik haar leven zou willen stopzetten!"