Papa van vier dochtertjes toont de brutale realiteit van het vaderschap.
Dit zullen heel wat papa's wel herkennen!
Grap van de dag: 85-jarige man is krachtpatser in bed.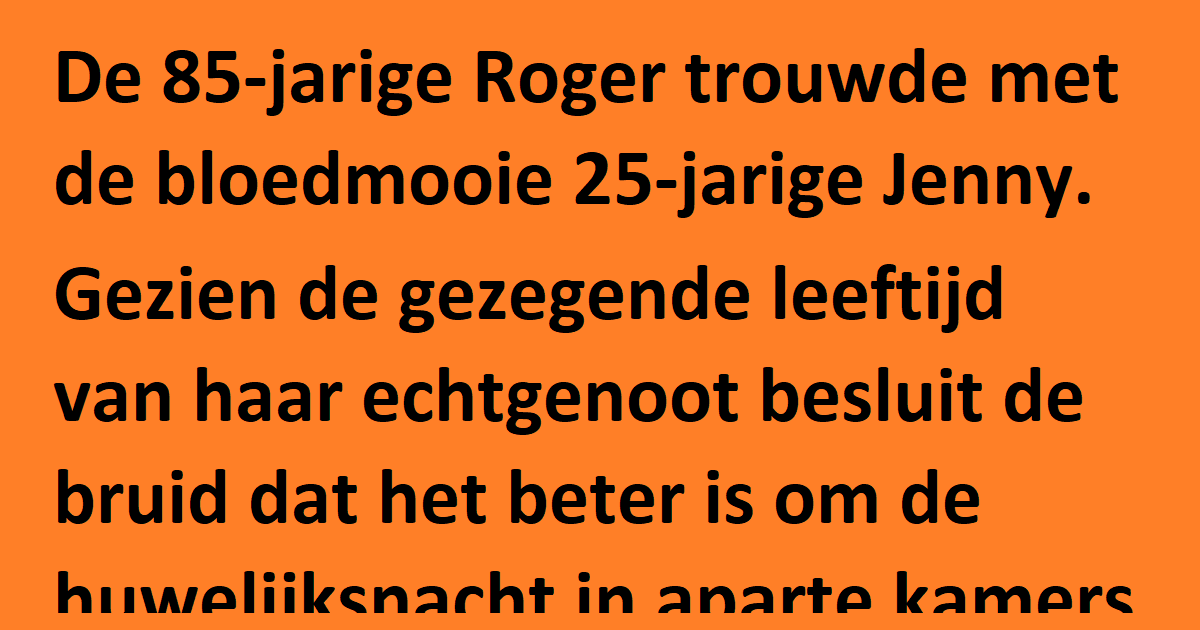 De 85-jarige Roger trouwde met de bloedmooie 25-jarige Jenny.
Gezien de gezegende leeftijd van haar echtgenoot besluit de bruid dat het beter is om de huwelijksnacht in aparte kamers door te brengen. Een hele nacht samen slapen zou de oude man immers te veel kunnen worden.
Middenin de huwelijksnacht wordt er op de deur geklopt. Ze staat op en laat haar echtgenoot binnen – klaar voor de liefde.
Ze delen een geweldig moment tussen de lakens. Daarop gaat Roger terug naar zijn kamer en Jenny maakt zich klaar om te gaan slapen.
Een paar minuten later hoort Jenny dat er opnieuw op de deur geklopt wordt. Tot haar grote verbazing staat Roger voor de deur en geeft aan dat hij opnieuw "klaar" is. Jenny is verrast, maar de twee bedrijven opnieuw de liefde.
Als ze klaar zijn, kust Roger zijn bruid en gaat naar zijn kamer. Precies wanneer Jenny uitgeput in slaap wil vallen, staat Roger weer voor de deur, zo kwiek en scherp als een 25-jarige en de twee duiken nog een keertje tussen de lakens.
Als hij haar voor de derde keer wil verlaten, zegt ze hem: "Ik ben diep onder de indruk van je viriliteit, Roger. Ik heb geslapen met mannen die veel jonger zijn dan jij en die konden het maar een keertje. Je bent echt een raket in bed!"
Roger kijkt een beetje beschaamd en zegt: "Dus je bedoelt dat ik hier vandaag al eerder ben geweest?"
Nederland giert om nieuw komisch duo Martien en Paul.
"Ik moet een nieuwe bank! Ik pies in m'n broek van het lachen!"
De eerste aflevering van Ranking the Stars was meteen een schot in de roos. En dat hebben de makers vooral te danken aan de briljante zet om Martien Meiland uit te nodigen. De kasteelheer was met voorsprong de grote ster. Maar Martien moet wel nog een beetje oefenen op de namen van de BN'ers.
Martien Meiland daalde als eerste de trap af met presentator Paul de Leeuw. De twee zijn al zo goed op elkaar ingespeeld alsof het lijkt dat ze al jaren een komisch duo vormen. Dat is ook de mening van Patricia Paay: "Jullie zijn leuk samen!" De Leeuw speelt meteen op de opmerking in en antwoordt: "Ja, Patricia is doof!"
De kijkers reageerden laaiend enthousiast en meteen na de eerste aflevering werd Ranking the Stars zelfs een trending topic op de social media. Een fan vatte het zo samen: "Ik moet een nieuwe bank! Ik pies in m'n broek van het lachen!"
Piloot die met gezin op vakantie vertrekt, vliegt vertraagde vlucht zelf naar bestemming.
Zijn vrouw wilde gewoon echt op vakantie!
Een man die met zijn gezin vanaf de luchthaven in Manchester op vakantie wilde vertrekken, redde ook de vakantie van zijn medepassagiers door het easyJet vliegtuig zelf naar Alicante te vliegen. Nee, dit is niet het scenario van een film waarin een held de piloot bewusteloos in de cockpit aantreft en de knuppel in handen neemt. Gelukkig voor de mensen aan boord, was Michael Bradley een echte piloot.
De man was helemaal niet verplicht om een handje toe te steken omwille van een piloot die niet kwam opdagen. Maar na een beetje aanmoediging van zijn vrouw, die wellicht echt op vakantie wilde vertrekken, nam hij zelf plaats in de cockpit.
Een van de passagiers filmde de speech die Bradley voor het opstijgen gaf. De video, gedeeld door moeder Michelle Potts, toont hoe de held zegt: "Mijn vrouw, die met mijn zoontje op rij 15 zit – hopelijk slaapt hij nu – gaf me een tik op m'n achterhoofd en zei: 'Onze vlucht heeft twee uur vertraging omdat er een kapitein ontbreekt op onze vlucht. Dus vlak voor we door de security gingen, dacht ik: 'Ik vraag me af of dit een telefoontje waard is …? Ik denk dat het dat is want ik wil echt op vakantie vertrekken'.
Daarop belde de piloot easyJet en zei dat hij stond te niksen in de terminal en zijn licentie bij zich had. Bradley zei hen: "Ik heb mijn ID bij me en ik zou echt graag op vakantie vertrekken, en als je een gunst nodig hebt, ben ik klaar om te vertrekken."
38 seconden later belden ze hem terug met de boodschap: "Alsjeblieft, alsjeblieft met een grote kers er bovenop, zou je het vliegtuig naar Alicante kunnen vliegen?"
Beseffend dat hij gewoon casual gekleed was, antwoordde hij: "Als het voor jullie oké is dat een van de piloten er vandaag zo uitziet, gaan we naar Alicante."
Uit het gejuich van de passagiers bleek dat ze er geen probleem mee hadden!
Een woordvoerder van de luchtvaartmaatschappij bedankte later de tussenkomst van Bradley en verzekerde dat alles volgens de veiligheidsvoorschriften verliep. "Dit is compleet in regel met de regels omdat hij zijn licentie en identiteitskaart bij zich had. Veiligheid is altijd onze eerste prioriteit."